About Bernies Berries and The Kenan Farm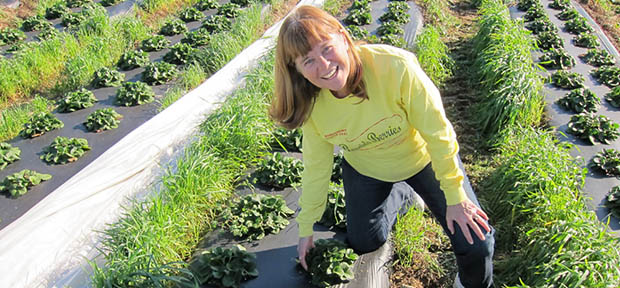 The Kenan Farm, a block of farmland that sits just off Groometown Road in Guilford County a few miles outside Greensboro, NC, has been in our family for nearly 60 years and for most all of those years, that land has harvested a variety of crops every spring, summer and fall.
Having already raised tobacco on that land for 31 years… 21 years that James worked with his father "Sprunt" and 10 that he and I had worked the land after his father passed away… we decided we wanted to live as close as we could to the crops we raised. So in 1980, with the help of some ever-faithful friends, James began to build our log cabin on a small piece of the land in the middle of where he and his father had farmed all those years together. Situated on the hill just above the lake we use for irrigation, James and his friends spent the next three years, little by little, building our cozy log cabin and in 1983 we were finally able to call that cabin our new home. It was also in that spring of 1983 that another "new" venture for the Kenan family began… the road towards what we now know as "Bernie's Berries"!
The Honor System – "u-pick – we pick"
That first spring in our new home, because we both loved a sweet cup of berries at the end of a long day in the tobacco barns, we planted a ½ acre of berries just below our house above the lake.
Since there was no way James and I could eat ALL those berries by ourselves, and since we needed a little "mad money" to get some odds and ends for the new house, we offered strawberries to anyone who wanted to stop by and pick their own, paying on an "honor system" based on the pounds of berries they picked. Customers would sign their names in a book, weigh the berries they picked and leave their money in our trusty "cooler" as payment for their berries.
Even in those first years, the demand was SO high, that I got up each morning, before heading off to my high-school teaching job at Ragsdale High School, to pick as many berries as I could for folks who had called in wanting berries but didn't want to brave the heat to pick their own. That first year we made $693! Just enough to buy my first curtains… "Country Curtains" they were called… for our new log cabin.
The next year, we expanded to a whole acre and changed from the original "matted rows" just above the lake to the new "plastic cure" rows planted in the larger field up on Groometown Road, just above the lake behind our house. We set up a stand with an umbrella and table for our cooler and notebook and that spring we made enough to buy our family-sized ice machine for the house.
Welcome to Bernie's Berries! The Fork in the Road
The "honor-system" way of sharing our berries with the community — the "u-pick" customers stopping by to pick their own and the "we-pick" customers picking up the berries I'd get up each morning at sunrise to pick — continued for over 10 years.
Then, in 2004, when the state buyout plan of tobacco crops came, we were left with a tough decision… continue farming tobacco and sign on to the buyout system the state was offering… or give up the tobacco, expand the land on which we farmed strawberries, and really let Bernie's Berries take-off!!!
Well… I bet you can guess what we did…
With the help of many of our neighbors and friends, as well as our hard working Hispanic family of "boys" – Israel, Victor and Enrique — that head north from Mexico each spring to pick thousands of berries for our "we-pick" customers — we formed a friendly crew of folks at our welcome counter to help with buckets, weighing the berries and showing the "u-pick" customers which rows are best to pick and a hard-working crew of pickers to brave the spring heat picking bucket after bucket of red, ripe strawberries.
With each growing year, we have vowed to make more and more improvements for our faithful berry customers. From a walk-in cooler to keep the berries fresh after being picked, to growing all the rows of berries in the new "plastic culture" type row, making for cleaner, longer lasting berries on the vine. The "plastic culture" rows also make for easier to manage rows, help with weed control and provide elevated placement on each row, making the berries far easier to pick for everyone.
One year we added a fence around our now 5 ½ acres to keep out the "four legged predators" and found a new practice of protecting the berries during the dangerous spring frosts by learning to frost them ourselves FIRST with the help of irrigation sprayers from our lake at the bottom of the hill.
With our expanding acreage, we also needed a way to help customers get to the rows that are farthest out from our entrance, so a visit to Bernie's Berries now includes a breezy ride on one of the many "Bernie's Berries Carts" to and from your picking row.
In recent years, we have even been able to harvest fresh produce like summer squash, cucumbers, tomatoes, watermelon, cantaloupe, cabbage, zucchini and sweet corn helping Bernie's Berries to offer fresh, homegrown goods all the way into September!
The Red-Roofed Shed
Then, finally… in 2004, the best addition of all… in order to help shield our tireless Bernie's Berries staff of friends who work day after day bringing fresh strawberries and produce to our customers, James and his brother-in-law Robbie and friends Jim McCuiston and Jeff Traynham built the Bernie's Berries Strawberry-Red Roofed Shed — which now shades our customers and workers too as they collect and weigh their berries… making this gorgeous shed the heart of the entire Bernie's Berries operation.
There you have it… from small beginnings to ever-expanding, berry farm!
So come enjoy a beautiful day at the berry patch! Grab a bucket, a big ole hat to shade the sun and come on down… cause when you see the little red roof… you're here!