APRIL 29 2017
Due to the rains this week we will only have pre-picked Strawberries on Saturday.  We still have lots of green berries and blooms but at this time there are not enough ripe berries to allow public picking.  Please consider our loss this week, as normally a row would yield 35 to 40 buskets but this week after the rains we are throwing away 30 and salvaging 5.  We thank you for being so considerate and for choosing us!
The staff at Bernie's Berries
James and Bernie
Beginning
APRIL 10,2017
we do have fresh STRAWBERRIES for sale!
u-pick and we pick               Hours 8 am – till sold out or picked over for the day  Mon-Fri
Come out and see us                  8 am-till sold out or picked over for the day   Sat.
Thanks
Welcome to Bernie's Berries
When you see the little red roof…you're here!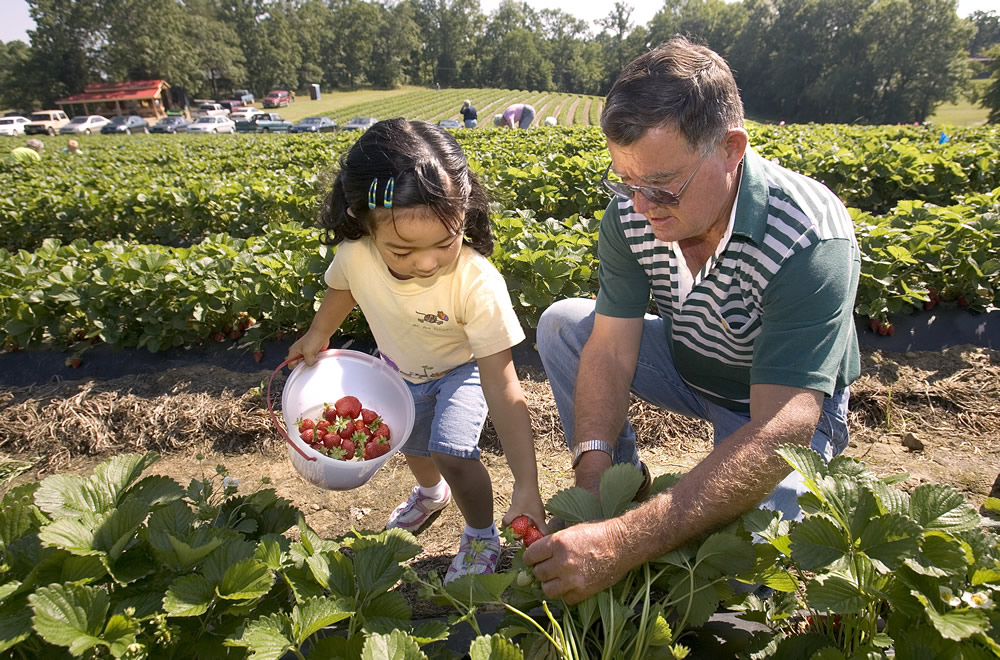 N
othing beats a warm southern day…a wide-open field…and a basket full of red ripe strawberries!
Here at Bernie's Berries our goal each day is to not only provide all our customers and visiting groups with sweet, juicy berries, but also a farm-life experience and integrity that will keep you coming back time and time again.
Our friendly folks will greet you with a smile and help you with beautiful, pre-picked berries from our welcome counter or jump on our famous Berry-mobile and we'll give you a ride to your very own row where you can pick your own.
So grab a busket, a big ole hat to shade the sun and come on down! 'Cause when you see the little red roof… you're here!
Learn more about us
---
OUR PRODUCE
Bernie's Berries now happily offers homegrown produce all summer long! See our list below for items available depending on season.
Corn
peaches from the Sandhills
peas
TOMATOES (German Johnson, Cherokee Purple, Mtn.
Mtn. apples
cauliflower
cantaloupes
watermelons
peppers
lettuce
October beans
kale
squash
collards
zucchini
swiss chard
cabbage
sugar snap peas
broccoli
radishes
jade green beans, half runners, blue lake
grapes
blueberries
cucumbers
spaghetti squash
patty pan squash
eggplant
Check back often for updated in season produce! Produce is picked fresh each morning and put on the table for you to choose from our available selection. We restock each produce item as needed throughout the day.
As with our berries, we are happy to gather your "special order" fresh produce and have it ready to go when you arrive. Just call ahead 1-2 hours before you plan to stop by.
View our produce